A critically important step to maintaining your pet's health
Why Preventive Care Matters
Preventative care consists of a combination of practices you can implement at home and services your veterinarian can provide to help prevent disease and increase the life of your beloved pet. By focusing on preventative care, you are taking an important step in keeping your friend healthy and happy for years to come.
Comprehensive Physical Examination
This head-to-toe examination includes, but is not limited to, temperature, weight, and the evaluation of the following:
coat and skin
eyes, ears, mouth, and teeth
heart, lungs, and abdomen
legs and paws
Vaccinations
Vaccines prevent diseases in your pets and reduce the risk of transmitting diseases to your family. We develop custom vaccine protocols based on your pet's individual risk factors.
Parasite Prevention
Based on your pet's lifestyle, we work with you to determine the best preventive treatment for your pet. Parasite prevention protects both your pet and your family from disease-carrying parasites.
Chemistry Profile and CBC
A blood chemistry profile, including electrolytes, provides information about your pet's liver, kidneys, and pancreas as well as other functions of the body, such as blood sugar and hydration. A complete blood count (CBC) can identify infection, inflammation, and anemia.
Infectious Disease Screening
Identifies whether your pet has been exposed to parasitic diseases, such as tick-borne diseases, heartworm, or other infectious diseases.
Fecal Test
Check for intestinal parasites, which may live in your pet's gastrointestinal tract. Since they are usually hidden from view, the only way to detect the presence of most intestinal parasites and identify them is by doing a fecal test.
Thyroid Function Test
A thyroid function test detects whether or not your pet's thyroid gland is functioning properly. Thyroid disease is very common in older cats and dogs.
Complete urinalysis
Identifies an infection or inflammation in the urinary tract.
Common Questions About Preventive Care Services
Question 1
If you click on the plus sign the answer to your question will be magically revealed!
Question 3
If you click on the plus sign the answer to your question will be magically revealed!
Question 2
If you click on the plus sign the answer to your question will be magically revealed!
Question 4
If you click on the plus sign the answer to your question will be magically revealed!
Our on-staff specialists take great care in providing care and treatment for your pet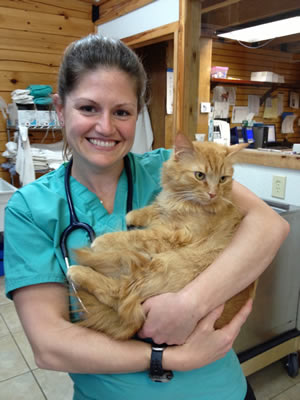 Dr. Katy Dempsey
Veterinarian
Dr. Katy Dempsey is a 2011 graduate of the VMRCVM vet school at Virginia Tech. Since then she has been practicing small animal medicine in Princeton, Blacksburg, and Dublin. Dr. Dempsey grew up in Maryland, then attended Tulane University in New Orleans. After college, she lived in Shanghai, China for two years, before attending vet school.
She currently lives in Blacksburg with her husband and two cats, Benny and Oscar. She loves all animals but particularly likes working with cats, dogs, and ferrets. Dr. Dempsey is an avid sports fan, and can't get enough football or college basketball. Her other interests include traveling, reading, spinning, and cooking.
Amazing Clinic, reasonable prices and excellent orientation. Just adopted a new puppy and scheduled an appointment with Dr. Virginia. She gave an incredible orientation regarding new puppy life. Front desk was clear and concise regarding prices and helping us with all the necessities for a new puppy. Highly recommended!
Dr. Butler and staff are awesome! Their pricing is very fair and reasonable. I will definitely be taking my fur babies back.
Email All for Paws Animal Clinic
We will respond to your inquiry within 1 business day. If you have an emergency during our normal business hours, please give us a call at (540) 382-0300. If outside our normal office hours, please call either the Virginia Tech Teaching Hospital in Blacksburg, VA at
(540) 231-4621 or Emergency Veterinary Services of Roanoke at (540) 563-8575.
175 Shoppers Way Christiansburg VA 24073
(in the Best Buy plaza next to PetSmart)
All for Paws Animal Clinic ©2019